Georgioupolis, also spelled Georgioupoli, is a small fishing village that features a main village square, a marina, two sandy beaches separated by a river, resorts, hotels, shops and welcoming tavernas. The village of Georgioupolis belongs to the Apokoronas municipality, a large area that includes also lake Kournas and a few rivers winding down to the sea from the mountains.
Located in northwestern Crete, between Chania and Rethymno, Georgioupolis is the perfect spot to set your base camp for exploring this large Greek island.
Click here to book your private transfer from Chania Airport to Georgioupolis at the price of today Saturday, September 23rd 2023.
Viator Tours & Things To Do in Georgioupolis and Around
Private Jeep safari adventure: click here to see the prices and to book your adventure. This tour includes visits to a winery, a castle, traditional villages and secluded beaches.
Kournas Lake visit with stops by a local olive oil mill, the waterfalls of Argyroupolis and the Saint Nicholas chapel: click here to find out more details.
Day trip to Samaria National Park with pick up from your hotel in Georgioupoli: click here to see the details
Day trip to Rethymno: take the public bus, go to Rethymno town and spend your day wandering those cobbled streets and enjoying lovely Greek food. Watch the sunset on the waterfront promenade.
Day trip to Chania: take a bus to Chania and spend your day in the Old Town. Chania Old Town is one of the most beautiful places in Crete.
The War Museum Askifou. This is a small museum up in the mountains, in Askifou village. You need a car to get there.
How To Pronounce Georgioupolis?
The pronunciation of many Greek words is difficult at first. However, as you get accustomed to the sound of the Greek language, you'll find it easier to communicate with local people and make yourself understood.
Georgioupolis, just like Graviera (the awesome cheese you must taste in Crete) and other words that contain the letter G are tricky, because the Greek G sounds more like a Y.
The closest pronunciation would be something along the lines of "your you police" or "your you polly" for the variant without the final s.
Play the following video with sound to hear the pronunciation of Georgioupolis:
Now that you know how to ask for directions, let's see some more things to know about Georgioupoli, this quaint fishermen village and tourist spot in Crete.
Is Georgioupolis Worth Visiting?
Whether Georgioupolis is worth visiting depends on where in Crete you are located.
You won't want to come all the way from Heraklion, Ierapetra or Sitia with the sole intention to visit Georgioupolis.
However, if you're located in Chania, Rethymno or surrounding areas, Georgioupoli is well-worth a visit.
I see Georgioupolis more as a place to stay rather than a tourist objective in Crete. I spent one week in Crete, exploring its northern coast, and Georgioupolis was exactly what I needed: a quiet, clean and beautiful place with excellent sandy beaches, good accommodation options and plenty of small shops and tavernas.
The location of this small village makes it perfect for driving trips to Chania, Rethymno, Kournas Lake, Agia Marina, Kolymvari, Kissamos and even Heraklion.
The mountains are only a short drive away.
I found Georgioupolis to be nice and lively. Keep in mind, though, that I'm not keen on spending my nights in clubs or parties.
Here are a few of the special deals on Booking.com: check them out to see if they suit you
What Is Georgioupolis Crete Like?
There's a Georgioupolis webcam broadcasting live from the center of the village. I'm embedding it here, for you to check it out. Maybe it will help you plan your Crete holiday this year.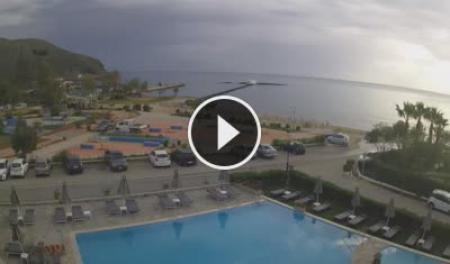 Bookmark this page to use it as your Georgioupolis weather report.
The center of the village isn't the most interesting part of it, though. Beaches and beach resorts, however, are among the best places you can find for your Crete holiday.
Are There Blue Flag Sandy Beaches near Georgioupolis?
Yes, there are a few sandy beaches in Georgioupolis and in the greater Apokoronas municipality.
Kalyvaki Beach
Kalyvaki Beach is that smallest of all Georgioupoli beaches. It stretches to the west of the village, between two rivers. Kalyvaki, also spelled as Kalivachi, is an organized beach. There are sunbeds, umbrellas and two tavernas.
Georgioupolis Beach
Georgioupolis Beach stretches to the east of the village center and it is much larger than Kalyvaki beach. Together with the adjacent Peristeras and Kourna beaches, Georgioupolis beach stretches over 10km of shoreline. Two rivers, Delfinos and Mouselas separate these three beach segments.
This European Blue Flag beach is clean and organized with sunbeds and umbrellas.
There are many resorts and hotels along Georgioupolis Beach. Their guests can use the sunbeds and umbrellas for free.
Peristeras Beach
Peristeras Beach is the name of the sand stripe that stretches between Georgioupilos Beach and Delfinos river.
Peristeras is an organized beach. Some of the beach bars offer free sunbeds and umbrellas to their customers.
There are water sports available on the beach.
Kourna Beach
Peristeras Beach stretches between the rivers Delfinos and Mouselas.
Like the other beaches in Georgioupolis, Kourna Beach is clean and well-maintained.
The sand is soft and nice and the water is clean.
All of these beaches are great for snorkeling, but there are days when the sea is rough, particularly during late spring and fall.
What Is the Nearest Town to Georgioupolis?
Rethymno is the nearest town to Georgioupolis. It sits at less than 30 km to the west. You can reach it by car in about 30 minutes.
Chania is the next nearest town to Georgioupolis, sitting at less than 40 km to the west.  A taxi ride from Chania Airport to Georgioupolis would cost about 65-70 Euro.
How Far Is Georgioupolis from the Airport?
The road distance between Chania Airport and Georgioupolis is 55km.
I got my rental car at the airport. It took me about one hour to drive to my accommodation in Georgioupolis.
I stayed at Argiri Apartments & Suites by Kourna Beach and I highly recommend it.
If you set your Crete base camp here, you'll want to take a look at this 7-day Crete itinerary to see how you can cover a lot of this beautiful island in such a short time.
Where To Stay in Georgioupolis
As mentioned before, I loved Argiri Apartments & Suites by Kourna Beach. The apartments are located on the opposite side of the road, so you need to cross to get to the beach. Nonetheless, there's a passage under the road you can use, should you not want to cross a national road in flip flops and beach attire.
The owners are very nice and welcoming. On our first day, we got a plate of cheese and fruit on the house. Fortunately, we had already learned
how to say thank you in Greek
. The mother of the manager didn't speak English, so it was nice to be able to thank her in a way she could understand.
If you choose this Georgioupolis accommodation, I strongly recommend that you eat at Pelagia's Yard Taverna nearby.
I ate there several times at Pelagia's Yard and each and every time the food was simply delicious and the service was perfect.